Introduction
Palo Santo's flagship operation, the Studios at Parkway, is presently under construction and set to be completed by January 2024. This new commercial development is situated in Santa Fe's burgeoning Siler Rufina District, a hotspot for arts and industry.


Location Highlights:
Proximity to Key Attractions: The location is within walking distance from popular sites like Meow Wolf and the Rufina Taproom.

Business Park Adjacency: It's right next to the bustling Richards Avenue Business Park, featuring over 100 small businesses.

Scenic Views: Although located in a commercial-industrial area, the development offers views of the Sangre de Cristo mountains.

Outdoor Amenities: The project is adjacent to city open spaces and trails along the old Acequia Madre.
Phase 1 Details
Phase 1 of this ambitious project is nearing its completion, and it will feature 15 new commercial condominiums designed in a boutique-industrial style.
Key Points for Phase 1:
Status of Units: All 15 units are currently under contract, pending sale upon completion.

Lease Opportunities: There are still leasing opportunities available for small businesses interested in this location.

Contact for Lease: For more information on leasing, reach out to Leslie Giorgetti at [email protected].
Phase 2 Plans
The next step, Phase 2, has 14 additional commercial condominiums in the pipeline and is close to receiving its required permits.
What to Expect in Phase 2:
Permitting: Scheduled to be processed very soon.

Groundbreaking: Expected to start in early Spring 2024.

Availability: Units will be available on the market in early 2024.

Pre-Sale Opportunities: Due to the rapid sell-out of Phase 1, prospective buyers are encouraged to contact us immediately for pre-sale opportunities.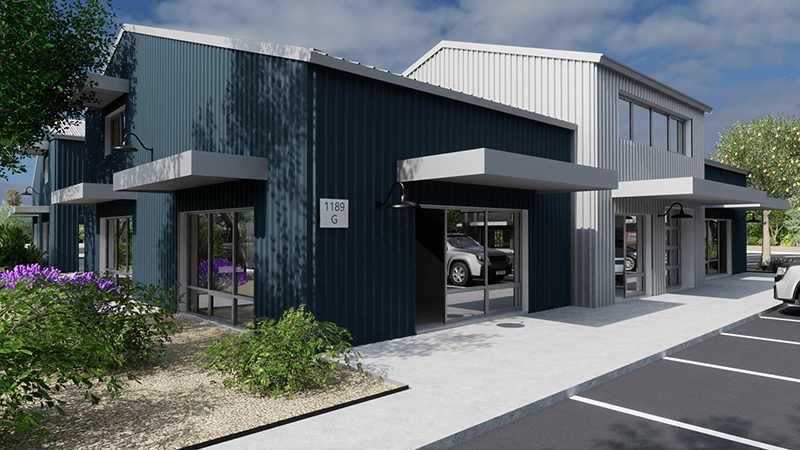 Siler Rufina District: A Business Haven
The Siler Rufina District is vibrant and unique, home to an array of locally-owned small to medium-sized businesses. The area is peppered with restaurants, coffee shops, offices, light industrial workspaces, and warehouses.
Limited Leasing: While there are still some lease opportunities in the district, Studios at Parkway is one of the very few offerings for sale.
Developer's Vision: Palo Santo Designs
Palo Santo Designs, along with its developer partners, has meticulously designed these commercial spaces to blend modernist aesthetics with practicality.
Ownership Opportunities: The Studios are intentionally designed to provide ownership opportunities for local small businesses.

Size and Price: With an approximate gross floor area of 1600 square feet and a pricing model targeted at owner-occupied businesses, the Studios at Parkway are poised to be a significant addition to Santa Fe's business community.
For any inquiries or interest, do not hesitate to contact us as soon as possible.