Carefully designed by the in-house architecture and design team at Palo Santo Designs, this modern farmhouse exemplifies the elegance and simplicity of 'clean lines' minimalism, while incorporating many of the best aspects of the traditional pitched roof northern New Mexico compound. It simultaneously communicates the classical architecture of sacred geometry and the proportion of the golden mean.

A renaissance home. It not only utilizes nature's classical proportions within its layout and elevations, it also showcases the best craftsmanship Santa Fe has to offer with hard troweled plaster walls, and artisanal applications of stone, tile, steel, and wood throughout. Designed and occupied by Palo Santo Designs' Principals, Mark & Leslie Giorgetti with their two young children, the house exemplifies the fusion of living functionality for a family, high architectural design and exceptional craftsmanship.
The panoramic views of the Jemez, Sangre, Ortiz, and Sandia ranges offer every room an exciting vignette of our dramatic mountain skyscape. The cathedral-like great room, with exposed timber trusses, accommodates kitchen, dining and living in an open floor plan, aligned to the central fireplace hearth. The room opens out to both the East and West with sweeping portals that soak the occupants and guests with breathtaking views. Carefully planned spaces take every view opportunity, room by room, to allow the outdoor and indoor to fuse into a seamless display of beauty.
The manor-like facades are embraced by courtyard walls that shelter gardens and orchards, while providing privacy for the detached guesthouse. The outer landscaped areas provide sanctuary for grapevines, native grass meadows, wildflowers, and the ubiquitous chicken coop and beehive. Food production in the form of fruits, eggs, vegetables, honey, and herbs is a central function of the landscaping while also providing shade and a cool microclimate around the home for comfort and relaxation within the aesthetic design. The gardens and trees are carefully watered with recycled greywater and rainwater catchment.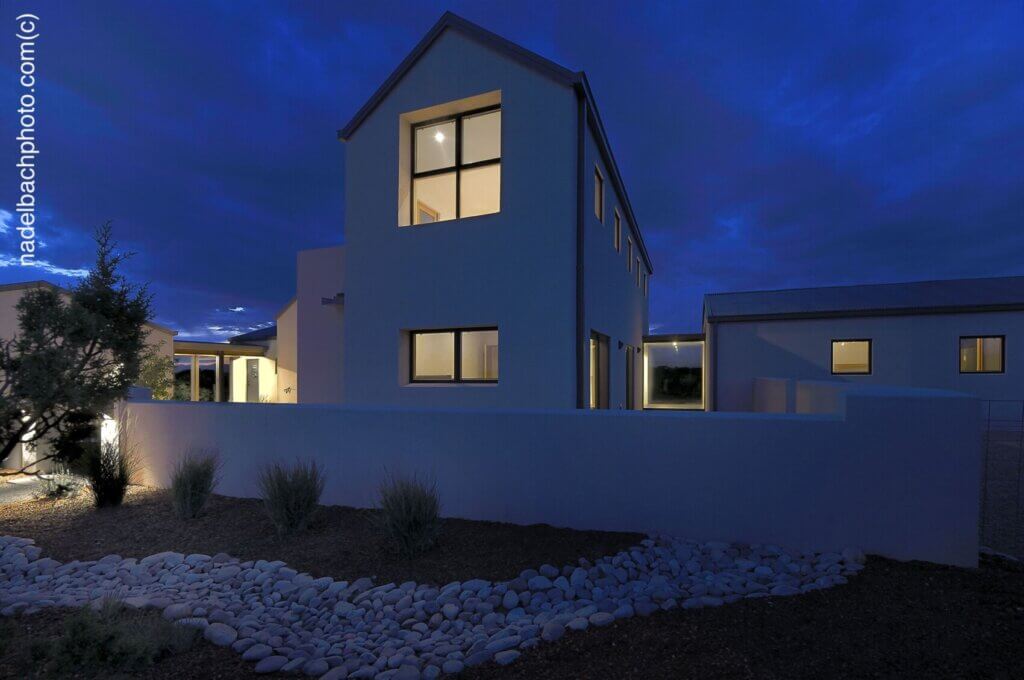 The home takes sustainability to the highest level with LEED Platinum certification pending, utilizing solar photovoltaics, energy efficiency, and rainwater reuse for both irrigation and toilet flushing. With its super-insulated shell, passive solar design, LED lighting, in-floor radiant heat, and pumice-crete walls, this is not your typical Santa Fe luxury home. This one of a kind work of art has combined reverence for nature, architecture and craftmanship into a masterpiece, which will provide its soul-enriching lifestyle benefits for generations to come.
This newly completed Santa Fe Modern Farmhouse to be featured in the 2020 Haciendas, A Parade of Homes. Learn more here. https://sfahba.com/project/haciendas-parade-of-homes/ or contact us here.