Energy Efficiency in Construction:
Palo Santo Designs LLC is dedicated to providing our clients in both the residential and commercial markets of Santa Fe with the best performing buildings. Our team of Santa Fe custom home builders are experienced, knowledgeable and committed to the use of best practices for:
Energy Efficiency
Water Conservation
Rain Water and Gray Water Harvesting
Passive Solar Design
Active Solar Technology for Power and Heat
Sustainable and Non-Toxic Building Materials
Zero Energy Design and Construction
LEED Certified Buildings
Building Santa Fe Homes with Water Conservation:
As Santa Fe home builders, water conservation is an important factor in our area and we want our homes to feature sustainable technology to make conservation a reality.
On average, Santa Fe gets 12-14 inches of precipitation per year. The national average is 35 inches. That said, water is a precious resource for us here in Santa Fe and we need to be wise about how we use and conserve the water we do have. One of the greatest ways to maximize conservation is by collecting rainwater for re-use.
Some of the ways we build water conservation into our homes is by capturing roof run-off and diverting the storm water into collection cisterns.  The rain catchment system then can utilize the storage to be pumped into a high efficiency drip irrigation system installed in the landscaping.   Rainwater catchment will reduce or eliminate the need to use potable city water for outdoor landscaping needs. 
Currently, we are now able to also use rain water catchment for re-use within the home as well.  For instance, rainwater can be collected as described above, treated with simple filtration technology (similar to the way well water is typically filtered) and pumped back into the home to be used to flush toilets or even for laundry. Re-use of rainwater is highly effective and efficient for those living in the house. Why not collect free water falling from the sky? It's a perfect conservation technique.
Additionally, all of our home include the specification of water conserving appliances and plumbing fixtures.  In general, the EPA Water Sense is a great standard by which to select water conserving fixtures.
Of course the re-use of waste water is also a technique we employ to conserve water.  Our Homes typically are piped to allow waste water from the showers, baths, lavatory sinks and laundry to be diverted into greywater irrigation systems.  Greywater refers to any waste water excluding that from toilets, kitchen sinks or hazardous waste streams.  Greywater drains can be easily and inexpensively plumbed into the home so that the homeowners have the ability to use greywater for irrigating landscape below the surface of the soil.  Greywater is not suitable for above ground sprayers or for vegetable gardens, but is perfect for shade tree or fruit tree irrigation.
USGBC LEED for Santa Fe Homes:
What is LEED? This is the nation's most recognized brand in green building; a third party certification program created by the US Green Building Council (USGBC) with a multifaceted approach to designing and building high performance homes. LEED stands for Leadership in Energy and Environmental Design.  The LEED program takes into account a variety of methods, materials and other considerations to rank projects into different categories of certification, and relies upon third party independent inspectors to validate that a home builder's green claims are truly carried out correctly in the field.
Our dedication to LEED home building means we utilize methods and materials that assure the highest level of energy efficiency, durability, comfort, water conservation, careful stewardship of the existing natural landscape of the building lot, and non-toxic materials and finishes.  LEED strategies are a perfect fit where we build homes, in Santa Fe. We not only want homes to be beautiful in design and construction, we want them to be sustainable in as many functional ways possible.
Energy Efficiency is the corner stone of all Palo Santo Homes.  LEED is the perfect partner in that effort because Energy Efficiency is measured carefully in every LEED for Homes project.  This is generally done with a third party HERS rate.  We focus on the inherent efficiency of the building shell or envelope.  Meaning we super-insulate the exterior walls, and roofs of every home, paying close attention to avoiding thermal bridging (or gaps in the insulation) and avoiding air infiltration (drafts).  This combined with top quality, ENERGY STAR rated doors and windows and the high performance building envelope will assure comfort both in summer and winter by insulating you from the extremes of the environment outside.  Once an exceptional building envelope is achieved filling it with high efficiency equipment for lighting (LED Lighting), heating and cooling is the next step.  Finally, offsetting the energy necessarily consumed to heat, cool and light your home can be easily done with solar technology including photovoltaic panels or heat collecting solar thermal panels.
We have completed numerous LEED certified homes in Santa Fe including those at the highest level, Platinum. Our most recent LEED Platinum home features numerous sustainable features, such as passive solar design, roof-mounted photovoltaic (solar electric) system, air-to-water heat pump, radiant in-floor heating and cooling, LED lighting, non-toxic finishes, plus rainwater catchment and greywater systems for irrigation. These are just a few of the great features in this LEED Platinum home.
Passive Solar Design in Santa Fe Homes: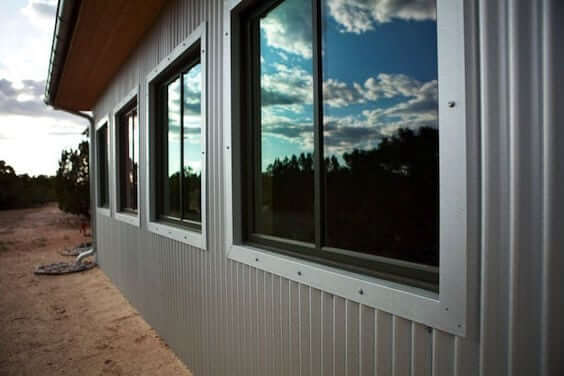 Paying close attention to the design and solar orientation of a home has a major impact on the energy efficiency within the home. Our Santa Fe based Design-Build team are experts in passive solar design – meaning we pay attention to the design and positioning of elements around a home and within a home so more solar energy is collected and stored during winter months, and then avoided during warm summer months. This aids in keeping the homes warmer in the winter and cooler in the summer before any mechanical heating and cooling systems are utilized.  Passive solar design, offsets a significant portion of the heating and cooling loads of a home, saving energy and money. Good for the environment as well as your pocket book.
Taking into account the angles of the sun above the horizon in summer vs. winter, the proper sizing of windows on the South façade, and appropriately sizing overhangs for summer shading will ensure a home does not overheat in Summer and gets maximum solar gain in Winter.
Combine this with high thermal mass interior elements, such as concrete floors, abobe walls, or other high mass building materials, and a super insulated building shell and passive energy efficiency is yours.